Darlings, how are you? So glad you're back. The end of November marked the end of a significant undertaking for me. A quest for both improvement and collegiality led me to check out the offerings of the fabulous Sequential Artists Workshop, an in-person and online school for making comics. At which I point I found…
Their even more fabulous Graphic Novel Intensive. It's a six-month, instructor-led, online workshop with tons of self-guided materials, weekly zoom calls, and an online community site for little bits of chattering and cheering as we work. (For the interested and concerned: Mighty Networks, not a Facebook group!)
I walked in thinking I "knew" all about my process and comics in general. Wrong on all counts! The breadth of stories and styles at work was amazing—participants were chipping away at several dozen projects spanning a multitude of fictional genres, non-fiction, and memoir. The collective wisdom we shared to lift each other up opened my eyes to all kinds of new ideas, techniques, and questions to ask both my current and future selves. The instructors are accomplished storytellers and artists and were immensely generous with their time and insight. To boot, they brought in a star-studded cast of comics professionals to enrich our eager, sponge-like minds.
The Intensive, and SAW in general, does something a little out of the ordinary by putting the focus on expression first. We were encouraged and supported at every turn in honing our craft in service of our own, unique vision. Or, even better, to use the workshop's many resources to find out what that vision is! In my past experiences of similar workshops, the focus was also on craft but in service of some narrow range of style and content that would get you hired, paid, or lots of Insta likes. In other words: capitalism triumphant. But not at SAW and that was a welcome relief.
Not that all the other stuff (publishers, agents, promotion, etc.) went ignored. It was there, but a thread in the tapestry and not the driving force of the workshop. There was plenty of expertise on offer and creative strategizing among participants to set a lot of people on their way.
For me, the shift in focus away from external validators helped with my issues around often putting the cart before the horse—and going nowhere. I get caught up in all the other stuff and forget the work itself has to come first. It has to be what I want it to be, what I want to say and put out in the world. Not what will get me hired to draw Batman or get a three-book deal with fat advance from RandomHouse. Those things are lovely, but if they're what's driving the bus, we're likely to be on a short road to nowhere. Alright, enough vehicular metaphorializing!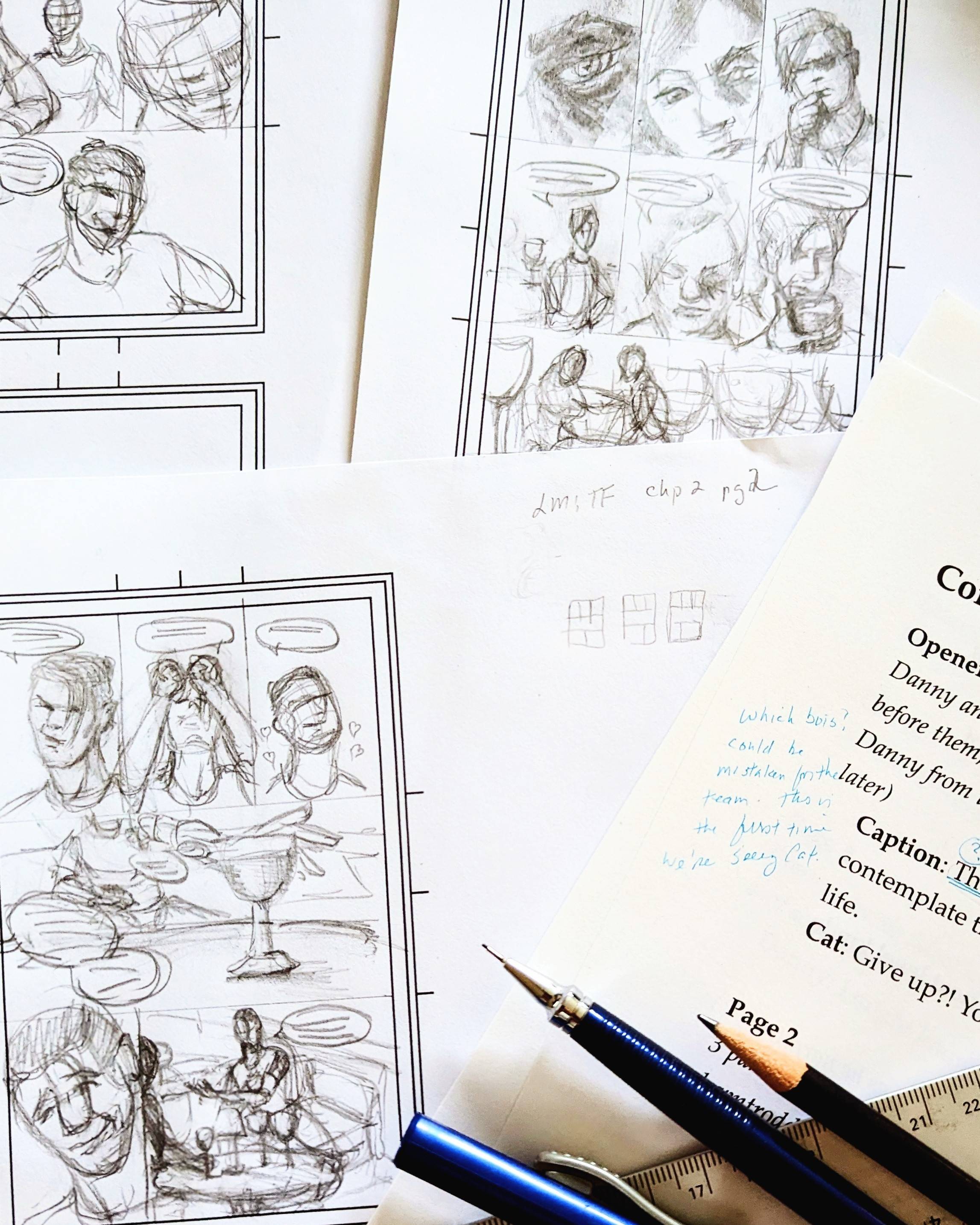 Yes, darlings, there will be a book. Pages are being trimmed and polished as we speak and soon there will be an anthology ably demonstrating, better than my mere words, the awesome creativity of the Graphic Novel Intensive. If I haven't yet convinced you that comics can be anything, absolutely anything, then this forthcoming tome will. Stay tuned!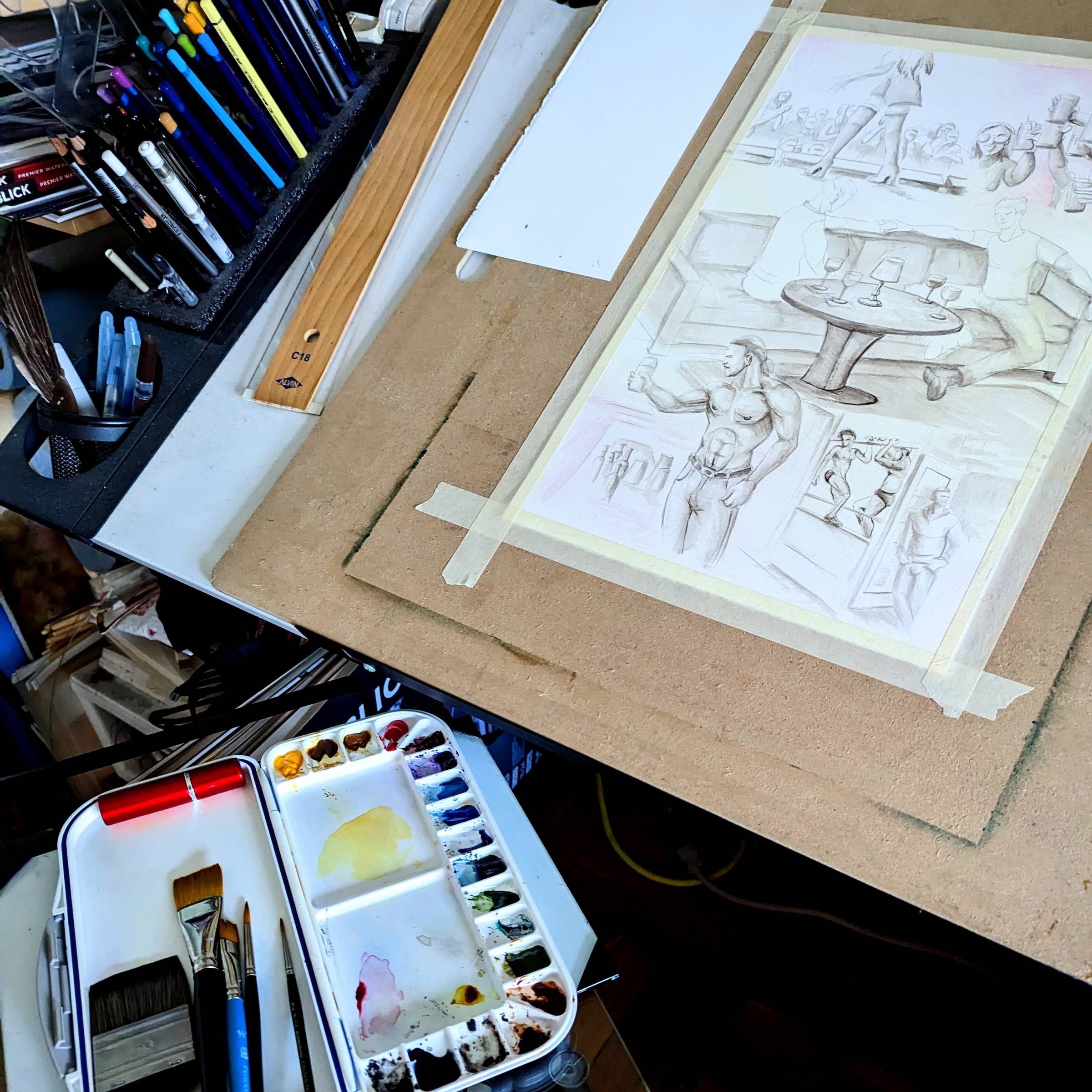 So, what did I work on, you might be asking? The aforementioned Lavender Menace: Taking Flight. I used my six months of the intensive to finish the script and get three chapters drawn. I've shared the first two with you last month, and there's another coming soon. (If you missed it, smash that reply button and I'll send you the link!) The workshop may be over, but the work is just beginning and I hope you'll join me for the journey.
If you are a maker of comics, or considering coming over to the dark side with us (we throw fabulous parties over here, darlings!) then check out the wide array of offerings at SAW. They range from totally free one-off workshops (happening almost every Friday) to a year-long professional training program designed to get you going on your magnum opus. With the Intensive completed, I will be hanging around for continued support and camaraderie. Come on in, darlings, the water is lovely.
Before bidding farewell, one last thing. Darlings, it's research time!
Don your sparkly lab coats and fire up the bunsen burner. We're getting to the truth. Your truth, that is. As part of an on-going effort to build an empowering and sustainable business around my art making, I'd like to interview you.
In exchange for half an hour of your time on a video call, may I offer you a complimentary set of prints or an original drawing? The questions are few and simple. I'm after a sparkling and engaging conversation, not number crunching. Let's talk about what makes you tick, what you like, and why you're here.
Smash that reply button if you're interested or want to know more.
This will be the only Dispatch for December as I'll be taking a little break. I'll be back in the New Year with more salt and sparkle.
Until next time, flame on! 🔥
---
This has been the Queer Quantum Dispatch, brought to you by artist Edward Ficklin. If you enjoyed it, smash the forward button and share the love. 💖 If you got this from a friend (and what a friend!) subscribe for more!