Happy New Year, darlings! And a hearty welcome to those just joining us. 💕
For me, denizen of the northern hemisphere, the slow return of light is a delicious form of anticipation. The dwindling of summer into fall is also lovely, so for those experiencing that moment—live it up!
It's been a minute since I did a round-up of sexy comics for you. (Here's the previous one, with comments open. Don't be shy!) Today, I've got a few more to present to you, darlings. Allow me to show you some spicy readings, new and not so new, to while away your leisurely hours. The books here are INTENSE in their sadism. They do not hold back. If that's not your cup of tea, I suggest exiting now.
We begin with the recently published two volume set, The Passion of Gengoroh Tagame. The set collects a number of Tagame's sadomasochistic, homoerotic tour-de-force comics from the past decade or so, lovingly translated and re-lettered into English. Translations into English of the prolific and talented Tagame's work don't happen that often, so when they do it's worth paying attention to. The team assembling this book, Anne Ishii (translator), Chip Kidd (designer), and Graham Kolbeins (editor), have seen to it that the hole is filled (lol) admirably.
Chip Kidd, in his introductory essay places these stories in a long line of works of "erotic antagonism." That's a very accurate, if a bit coy, phrase to describe what's going on here. Even the stories with a tinge of romance to them, are still very antagonistic. If you'd like to nerd out further about this particular horniness, here's a nice long one (lol) for you.
Like me, you may feel some discomfort and concern at where these stories go. In this discomfort, I'm reminded of an interesting essay by adrienne marie brown entitled "Pornography and Accountability" (link may not work, but it's in her book Pleasure Activism, which is still available). She concludes with this intriguing thought:
Ideally, porn is a spark for, and an extension of, a vibrant sexual imagination. And just like with fantasy, we may choose to continue watching stuff beyond our politics, stuff we never plan to practice—but this should be an intentional, informed sexual choice.
Fantasy, imagination, what excites or repels us, these are interesting things to have reflected back to us from the stories we read or other media we consume. On that level, these stories present some interesting questions. On another level, you can simply enjoy the masterful artwork and storytelling.
The world of gay erotic manga we've just stepped into is huge—and largely unavailable to English speakers. However, this same expert trio has also produced a beautiful sampler for you, appropriately entitled Massive. This lovingly crafted anthology features a generous range of voices and styles. I consider it a must for fans of gay and/or queer comics.
Of all the massively talented artists featured, I'd like to call your attention to a personal favorite: Takeshi Matsu. He has two books published in English under the Gay Manga series of Bruno Gmünder: More and More of You and Dr. Makumakuran and Other Stories. Near as I can tell, they're out of print so you'll have to get clever or lucky. They are worth the hunt. Meanwhile, he's still active on Twitter (in Japanese) and selling digitally through DiGiket. I mean, you can still look at the pictures and guess at what's happening, right? Imagination always enhances the erotic. Or maybe it will inspire you to fire up the Duolingo app for some of that supposedly daily practice.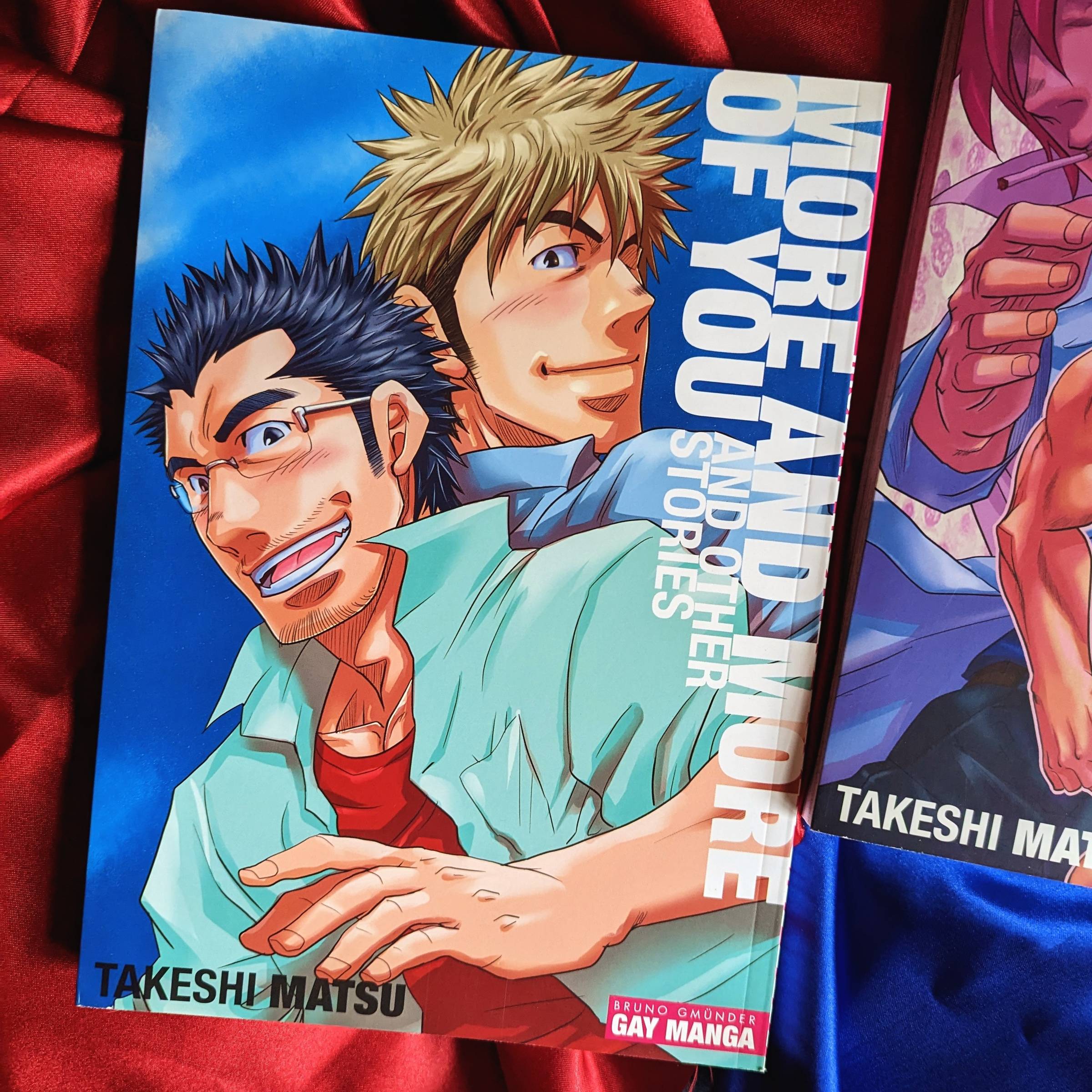 Incidentally, Bruno Gmünder went ünder, but some of their books are still available from the new Bruno Books imprint. They're doing well and publishing new titles, including comics, in Germany. But, shipping costs (compounded by the prudery of English-speaking countries) means finding their stuff elsewhere takes some doing.
Got your own favorite sexy queer comix that we should all know about? Smash the reply button and let me have it!
Until next time, flame on! 🔥
---
This has been the Queer Quantum Dispatch, brought to you by artist Edward Ficklin. If you enjoyed it, smash the forward button and share the love. 💖 If you got this from a friend (and what a friend!) subscribe for more!